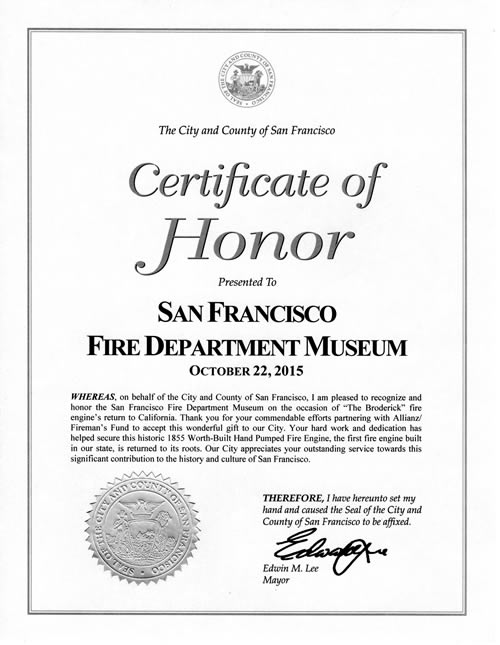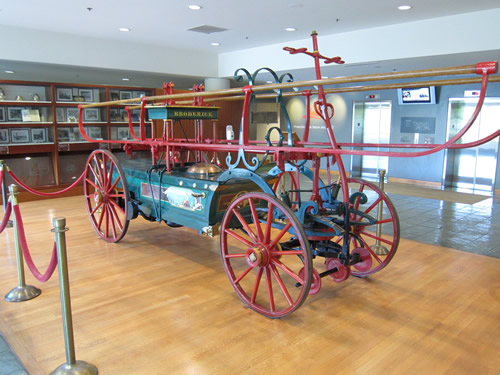 Additional 1955 Broderick Images - Section A
Click on the first image to start the slide show.
---
Additional 1955 Broderick Images - Section B
Click on the first image to start the slide show.
---
Additional 1955 Broderick Images - Section C
Click on the first image to start the slide show.
---
William E. Worth
Patternmaker - Builder
On Belden Place near Pine Street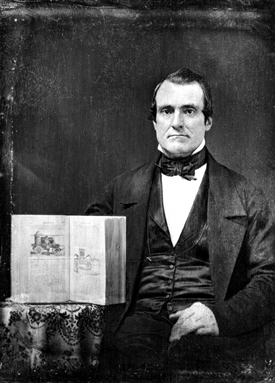 William Ellison Worth was a patternmaker by trade posed here with a textbook on engines.
Mr. Worth came to San Francisco in 1850 and was engaged by the Union Works as a patternmaker, where he remained for about four years.
Mr. Worth opened his own pattern shop on Belden Place. Later he entered into a partnership with Mr. Hyde and Mr. Field to establish the Fulton Iron Works.
Died: June 30, 1879
1855 WILLIAM E. WORTH 2nd-CLASS HAND ENGINE

Cylinders: 2 - 8 1/2 inch, fitted with patent air-discharging valves invented by Mr. Worth.
Capacity: 524.84 inches.
Wash box: built of tamanu, a rare wood from the South Seas.
Bed-plate: cast at the Vulcan Foundry, First street, between Mission & Howard streets.
Pumps: cast at the Pacific Foundry, First street between Market & Mission streets.
Assembly work being done by H. J. Booth on Davis street; journeyman work was done by George W. Prescott.
Weight: 3,000 pounds.
Cost: $5,000, city property
Crew: the pumping brakes to be so effective near forty men can be put upon them at once.
Nickname: The "Old Fire Eater"
Service History:
October 31, 1855 - December 2, 1866 Empire / Broderick Engine Company No. 1

1859 The engine has been recently altered and placed in fine repair by Mr. Worth.

1882 Sold to the town of Yale, British. Columbia, Canada.

Stalled at British Columbia customs and released in April.

1894 Sold to Vernon, British Columbia for a price of $100.

1904 Sold Kelowna. British Columbia.

Retired from service prior to World War I and placed in the Kelowna city park.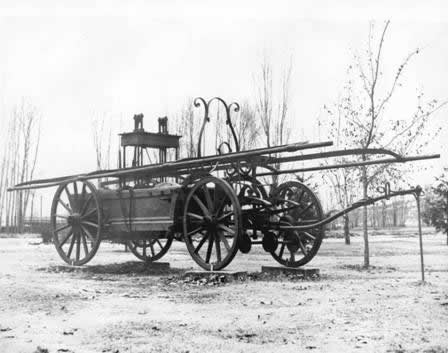 1947 Discovered in the Kelowna City Park by a Daly City firefighter who contacted the Fireman's Fund Insurance Company, San Francisco.

1947 March 24 - Returned to San Francisco by Fireman's Fund who purchased the engine for $500 from the City of Kelowna, B.C.

2015 September 2, Wednesday – Donated by Allianz Global, formerly Fireman's Fund, to the San Francisco Fire Department Museum.
Condition: Very Good, restored, 1947.
Location: Museum.
RELATED ARTICLES:
NEW ENGINE FOR ENGINE Co. No. 1.
1855 May 10
In part
— The Empires are having constructed a beautiful new engine on Belden street, at the manufactory of Mr. William E. Worth, which in point of finish, strength and elegance of design, bids fair to rival if not excel any other in the city. This machine, which is fast advancing to a state of completion, is constructed of tamanu wood, lately imported from the Sandwich Islands, the only place where this material is found. The weight of the engine when completed will be about 3000 pounds. She is to have 8 1/2 inch cylinder, and is furnished with a patent, now system of forward axletree, by which the engine is turned around in her own length. The suction apparatus (sic) is underneath the body of the machine. The brakes are of a folding pattern, to save room, and, when fully extended, near forty men can be put upon them at once. She can throw two streams at once, and promises to be one of the most powerful engines in the Department. The tongue, which is all of iron, is being made near by the engine. The engine company was the first organized company in San Francisco, having formed June 4th, 1850. They number 65 members, exclusive of the hose company. The machine will be trotted out at soon as completed, and our citizens will then have an opportunity of seeing her. The hose carriage is got up at the expense of the members
Source: Daily Alta California, Volume 6, Number 119, 10 May 1855 — ADJOURNING OF THE LEGISLATURE. [ARTICLE]
TRIAL OF A NEW ENGINE
1855 May 28
The Empires, No. I, bought out their new engine on Saturday afternoon and gave her a trial at the corner of California and Sacramento streets. She answered the most sanguine expectations of the company, and will be received from her builder. A description of the machine and everything of interest relating to the company and engine has been recently published in the Alta.
Source; Daily Alta California, Volume 6, Number 134, 28 May 1855 — SPORTING INTELLIGENCE. [ARTICLE]
NEW HOSE COMPANY.
1855 June 9
— The Empire Hose Company, No. 1, are getting up a splendid new hose carriage, but are yet lacking the means to pay for it. The committee of five appointed by the company propose to raise the amount by subscription from the residents of the Sixth Ward, in which the engine is located. The company has recently had built a beautiful new engine, and are desirous of having a hose carriage to match it. The committee will call upon the residents of the ward during the present month, and it is hoped that those who take an interest in the progress of our Fire Department will contribute such amounts as their means will permit for this praiseworthy object A very little from every one will more than make up the requisite sum.
Source: Daily Alta California, Volume 6, Number 145, 9 June 1855 — Commercial Canker. [ARTICLE]
EMPIRE ENGINE CO. NO. 1.
1855 August 1
— Members of this company gave their new engine a trial yesterday afternoon on the corner of California and Montgomery streets the result of which was as follows : Through 50 feet of hose with open butt on the first trial, she threw 45 feet and 6 inches; through 60 feet of hose on the second trial 47 feet and 3 1/2 inches ; through 200 feet of hose with 1 inch nozzle, 125 feet of solid water over Wells, Fargo & Co 's building; through a 7/8 inch nozzle, 26 feet of solid water above the same building. Pretty good spouting.—
Source: Sacramento Daily Union, Volume 9, Number 1357, 1 August 1855 — POSTSCRIPT [SECTION]
EMPIRE ENGINE CO. NO. 1.
1855 August 11
In part
The members of Empire Engine No. 1, tested their new apparatus on Thursday afternoon, preparatory to its being accepted by the Fire and Water Committee. A large concourse of citizens witnessed the playing, the test was most satisfactory to the Fire and Water Committee and the Department. The following are the distances thrown through 150 feet of hose, 2 ½ inch butt, 35 feet; second trial, through 50 feet of hose, 2 ¼ inch butt, 44 ½ feet; third trial, through 200 feet of hose, 1 inch nozzle, 135 feet; fifth trial, through 50 feet of hose 2 ½ inch butt, 33 feet; sixth trial through 50 feet of hose, 1 ¼ inch nozzle, 140 feet; seventh trial, 2 streams 7/8 inch nozzle 80 feet perpendicular.
The engine whose playing in above record was built in this city, by William E. Worth, and is the first engine over constructed this side of this Rocky Mountains, and is an honor to Mr. Worth and a credit to the State. The Fire and Water Committee have signified their intention of accepting the engine as a portion of the apparatus of the Department.
Source: Fireman's Journal
A FIRE ENGINE ON EXHIBITION.
1855 September 25
In part
The Empire Engine No. 1 of this city will be taken to Sacramento to-day, to take its place, at a specimen of home manufacture, at the coming State Fair. Every one knows that the Empire is one of the most serviceable engines in the city. It is a naive of the State, having been constructed by Mr. W. E. Worth, of San Francisco, one of the most skilful (sic) engine builders in the Union.
Source: Daily Alta California, Volume 6, Number 236, 25 September 1855
FIRE ENGINES.
EMPIRE, No. 1.
1857 October 30
This engine is first class, and one of the best in the Department; a very heavy bed plate, however, and the want of springs to enable her to run more easily, not only detracts from her usefulness in her progress to fires, but causes injury to her machinery in so running. The engine is entirely of California build, and her previous high reputation and eminent service in the Department all combined, demand for her a correction of the evils above noted. I therefore earnestly recommend that a new and lighter bed plate be ordered for her, and that she be placed on springs."
Source: Quarterly Report of F. E. R. Whitney, Chief Engineer , October 30, 1857
STATE SUMMARY.
1859 September 2
A Fire Engine, built in San Francisco by Messrs. Worth, Hyde & Field, is now used by Empire Company No. 1, of Columbia. It is one of the most efficient engines in any department, says the Tuolumne Courier, and it is a mistake to suppose that a first-class 'machine' cannot be constructed in this State.
Source: California Farmer and Journal of Useful Sciences, Volume 12, Number 7, 2 September 1859 — STATE SUMMARY. [ARTICLE]
2015 – Correction: This engine was not shipped to Columbia. The Columbia Volunteer Fire Department never had a company called Empire Company No. 1. Columbia has all of their department records, and their records show that this engine was never in used in Columbia.