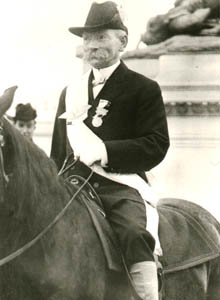 Frederick S. Eggers
San Francisco Sheriff 1912-1915
Frederick Eggers was born in Germany on April 10, 1858. He came alone to the country as a boy of fifteen and lived in New York, working as a grocer. He moved to San Francisco in 1876, where he worked in the coffee and tea trade until he was elected Sheriff in 1912. He served as a member of the Board of Supervisors from 1901 to 1906. Although a Republican, he worked with the Democratic majority on the Board to further important civic projects.
He won the election against then Sheriff Finn in one of the most bitter contests for Sheriff. Egger's wife demanded and led a recall vote against him, which succeeded in getting Sheriff Finn reelected to the post in 1916. Eggers was constantly concerned about the situation in the jails, and visited them daily. He established both a truck garden and a bakery in the jails.
Sheriff Eggers was the first Sheriff to put personnel in a standard uniform. On January 1, 1914, deputies and guards assigned to the County Jails were to wear "a suit of drab khaki with brass buttons. The other deputies, bailiffs and keepers will wear a suit of blue serge, with brass buttons, except in the cases of bailiffs in the civil courts, who, instead of brass, will have an insignia on the lapel of their coats designating the title of the office."