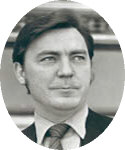 Richard Hongisto
San Francisco Sheriff 1972-1978
Defeating incumbent Sheriff Matt Carberry as a reform candidate, Dick Hongisto was a San Francisco Police Officer for ten years. He initiated numerous programs to upgrade conditions within the county jails, including actively involving community groups and starting prisoner programs. His first years in the Department were stormy, as labor issues nearly led to a strike.
Sheriff Hongisto did much to improve the working conditions of the Deputy Sheriff. Training was increased to comply with current state standards, and uniforms and safety equipment were issued. During his tenure in office, City Prison was turned over from the jurisdiction of the SFPD to the jurisdiction of the Sheriff (1976).
In 1975, Sheriff Hongisto was easily elected to a second term. In 1978, he resigned his office to become the Police Chief of Cleveland, Ohio, and then the Director of the New York State Dept. of Corrections. His Undersheriff, James Denman, was appointed Acting Sheriff pending the appointment by the Mayor of a successor. In 1980, Hongisto returned to the City and was elected Supervisor, became City Assessor, and then was appointed Chief of Police by Mayor Frank Jordan in 1990. His term as Police Chief was brief, and he was forced to resign resulting from a scandal regarding stolen newspapers.