Chief of Department
1976 - 1982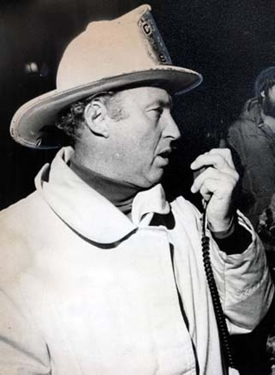 Appointed - February 24, 1947
Appointed Lieutenant - June 16, 1960

Assigned to Truck Co. No. 2

Appointed Captain - May 1, 1965

Assigned to Salvage Co. No. 2 - 1965
Assigned to Engine Co. No. 27 - 1966

Assigned to Truck Co. No. 6 - 1967
Appointed Battalion Chief - March 16, 1970

Assigned to Battalion No. 9 - 1971
Assigned to Battalion No. 2 - 1971

Appointed Secretary to the Chief of Department - 1972
Appointed Chief of Department 1976
Retired 1982
Father Henry appointed to the department 1922
Brother Harold appointed to the department 1949
Brother Henry appointed to the department 1954

ANDREW CASPER – HANDS-ON S.F. FIRE CHIEF
In the prime of his life, Andrew C. Casper liked to be the center of attention.
As San Francisco's fire chief for six years, he was a fixture at all the big fires -- standing out in his white helmet and white turnout coat.
"I thrive on action," he liked to say.
Chief Casper, who retired as chief in 1982, died Friday of complications of cancer at the California Pacific Medical Center. He was 82.
He was a fireman of the old school -- hurrying to all fires that were more than two alarms in his red chief's car and taking charge. He often appeared on television and in the newspapers as the public face of the Fire Department. "I am not an armchair general," he once said.
Chief Casper was one of those old-time San Franciscans, who were born and raised and died in the city. He lived in the Parkside district when it was still largely sand dunes and was so quiet at night that he said his family could hear the lions roar in the zoo.
He graduated from Lincoln High School when it was brand new and served in the Marine Corps as a sergeant in the South Pacific during World War II. He attended the University of San Francisco on a football scholarship but dropped out and then went downtown and took the exam for the Fire Department.
Those were the days when the Fire Department was pretty much a family business -- Andy Casper's father, Henry, was a fire lieutenant and two of Andy's brothers were firefighters. Another of his relatives had been at different times San Francisco's sheriff, a supervisor and an assemblyman.
Andy Casper joined the department in 1947 and rose through the ranks. He won two department awards for heroism and in 1966 got the annual award for heroism from the San Francisco Council of Lions Clubs for rescuing a child from a burning building.
In 1976, Mayor George Moscone picked Mr. Casper from among 17 candidates to be fire chief. He was at that time head of the department's administrative bureau, a job he disliked. "It was a desk job," he said. "It was driving me crazy."
Chief Casper liked to run things himself; he showed up for work early and stayed late. Some of his subordinates claimed he did not delegate authority well, and when any big fire broke out he was there in person, running the show. "He was both the administrative and operational head of the department," his son, Donald Casper, said.
He also was a figure on the banquet circuit, an amiable, hearty man who, it was rumored, had political ambitions.
However, the Fire Department was embroiled in an unprecedented scandal in the fall of 1980 when the officers and crew of a fire station in the Sunset District left their station to attend a four-hour abalone dinner at another firehouse on the other side of Golden Gate Park. While they were gone, a fire broke out in an apartment house half a block away and firefighters from other companies arrived too late to save a 66-year-old widow who died of smoke inhalation.
Chief Casper found himself in the uncomfortable position of disciplining some of his firefighters while defending the rest of the department. "It was a very difficult thing," said his son.
The chief retired in 1982 to take a position with the Foundation for Fire Safety near Washington, D.C. He also held other executive positions in the Washington area but returned to San Francisco after a couple of years. He and Edward Phipps, who was one of his successors as chief of the San Francisco Fire Department, had a consulting firm on fire safety.
Chief Casper was always an exponent of physical fitness: He developed fitness standards for firefighters, loved to row small boats in San Francisco Bay and, even into his 80s, could walk from his home to his old high school eight blocks away in under 20 minutes.
Chief Casper was a role model, who left "a legacy of dedication and service to our city," said Fire Chief Joanne Hayes-White.
Chief Casper and his wife, Dorothy, were divorced for many years. He is survived by his son, Donald Casper; a brother, Henry Casper Jr.; and by Dian Kudelka, Chief Casper's fiancée.
A funeral Mass will be celebrated at 11 a.m. today at SS Peter and Paul's Church on Washington Square in San Francisco.
Source: Carl Nolte, San Francisco Chronicle Staff Write, Thursday, June 1, 2006
HAIL TO THE CHIEF
"You can't have 1,432 firefighters representing themselves — I am the reflection of all .our accomplishments"
He is perhaps the most powerful man in San Francisco. He could, with one command, level half The City. He heads an army of 1,432 well-trained men, which, by this time next year, will have grown to 1,634. He wants to redesign his troops uniforms so they will look more like an army and he would like to have some carry guns.
He is chauffeured around town in a limousine; he is a much sough-after party guest; many of this country's rich and mighty call him by his first name.
The men he commands call him "God"
He is San Francisco Fire Chief Andrew Casper.

Such a post would carry clout in any major city. There's a special edge to the fire chief's power in San Francisco, however. There is a romantic tradition among firefighters around the state that The City is the most dangerous (and exciting) place to fight fires and there's a lot of truth under the romance. The City also has, say many fire science experts, the best fire department in the country.
"Out of necessity," says Casper. "It is one of the few departments that combat fire by making direct contact at its origin, rather than just pouring water on it. We have to go inside to keep a fire contained because of the nigh combustibility and density of construction, prevailing westerly winds, narrow streets hilly areas, traffic congestion, huge amounts of exterior overhead wiring and illegally parked cars in The City's many alleys. Add to that, that we rank third in the number of high-rise buildings (the toughest fire to fight), are responsible for BART — five miles of it under the Bay — and a highly flammable water¬front."
Casper candidly acknowledges his power: "Under the city charter I'm empowered to do whatever necessary to stop a fire, even if it means leveling half the city to save the rest. In 1906, explosives were used, but it scattered the fire. I'd use bulldozers and cranes. Let's hope it never comes to that."
About the guns: He'd like authorization to arm members of the arson squad "because some¬times their investigations get them into pretty sticky situations, and there's no policeman around to help."
Of the limo: "Getting to a fire is the most dangerous part of my job," Casper says as his driver weaves the big 1975 Chrysler New Yorker, with both its sirens going, at 50 mph through noontime traffic on Howard Street en route to a two-alarmer at Capp and 22nd streets. Sitting in the front seat, partly out of tradition, but mainly because it gives him easy access to the two-way radio, Casper winces as a Volkswagen ignores the sirens and crosses a street intersection, caus¬ing the chief's driver to veer sharply. "I'd like to have something along the lines of a CHP car — more maneuverable and rugged," says Casper. What he is chauffeured about in now is a show car, the one that was used in "The Towering Inferno," and later given to The City by the film's producer, Irwin Allen, as a thank-you for the cooperation he got here in making the movie. "I once considered", said Casper, "having all fire vehicles painted lime-green because of that color's high visibility at a distance. I discarded the idea because the distance factor is not important here."
At 52, he is a man open to new ideas, although his background might suggest traditionalism and stubbornness. Casper is a mixture of Czechoslovakian, Irish and French Canadian ancestry. He is a rough-and-ready product of the Parkside area, where, at 16, he was once arrested for throwing rocks at street lights. His father, the late Lt. Henry Casper, was a San Francisco firefighter for 33 years.
"I think I'm more determined than stubborn. I've always been impatient and feisty. I was good with my fists when I was a kid living in Parkside, and I sometimes wish I could resolve problems today that way. It would save time," he says.
In San Francisco, the mayor appoints the fire chief. It is often a form of political patronage for campaign services rendered, but not without consideration for the man's talents. Mayor Moscone "passed over" 17 aspirants in March 1976 to name Casper, who at the time had been chief of the bureau of administration for three and a half years. "It was a desk job," said Casper, "and it was driving me up the wall. I thrive on action."
Moscone's choice has proven to be a dedicated public servant who came up through the ranks, doesn't need much sleep and hasn't taken a vacation in two years.
"Less than 1 percent of the men resent him being chief. You can't complain about that," says Ray Landi, whom Casper appointed to succeed him as bureau of administration chief. "Casper stays on top of everything. I get in a 7:30 a.m. and Andy's in the office before me. I leave at 6, and he is here after me. I can tell the next morning by the amount of completed work in the 'out' box. And he works weekends, too. You can't keep anything from him. It' you have made a mistake, you'd better tell him about it."
Lt. Dan Kiely, of the underwater search and rescue team, puts it more candidly: "He's hard to bull-, and has a great sense of priority. He's one of those guys who look you right in the eye, and you know he knows everything."
A 27-year veteran, Capt. Charles Ryan, at the Jessie and Fifth Street firehouse, praises Casper for his accessibility: "He has a terrific memory. Personnel is al¬ways changing, but he seems to know who the new ones are, and can call them by their first names. The feeling I get is that he's a father image to the young men, and a brother to us older guys."
Dick Dineen, in the department for 23 years, and presently supervisor of breathing equipment, who fought many fires side-by-side with Casper in their rookie days, said: "I'd go anywhere with him."
Despite such high tribute, Casper does provoke a few complaints. Some upper-level officers grumble that he doesn't delegate enough duties. Casper owns up to the allegation squarely: "There is too much delegation in city government, and not enough responsibility-taking. That's why civil service is so hard to work with sometimes. I find that very often I can do something faster and easier if I do it myself."
Casper is paid $52,000 a year, which he laments "is $17,000 less than what the chief in Los Angeles makes," adding that Los Angeles is a much less combustible city because construction and population are spread out.
"I never wanted to be a fireman. I wanted to be a cop," he says. "In fact, after several years in the department, I took the police exam because I was bored by the lack of action at the firehouse I was assigned to. I passed the exam, but by the time I received word I was reassigned to a more active house." -
Paternal pressure forced Casper into becoming a smoke eater. After graduation from Lincoln High School, he enlisted in the Marines, and was discharged with the rank of sergeant in 1946, after seeing action during World War II in the South Pacific, "I was award¬ed a USF football scholarship, underwritten by wealthy alumni and the GI Bill. I had hopes of becoming a football coach, until I injured my shoulder during a scrimmage. I got discouraged, dropped out of school, and spent my time lying around the house feeling sorry for myself. One Saturday morning, my father woke me up, and said the fire department exam was that morning, and that I'd better get up and take it, because if I didn't my bags would be packed and waiting for me on the front steps by evening. I passed the test.''
Casper and his wife of 31 years, the former Dorothy Colla, reside rent-free (but do pay the $1,600 annual property taxes) in the firehouse-residence on Bush, near Taylor, where The City's chiefs have lived since the 1906 fire. The building has not been a working firehouse for many years and the space that formerly housed fire engines now garages the chief's car. The on-duty driver sleeps in an adjoining room; the Caspers live upstairs. The rooms are small and the facilities antiquated, but there is a large garden area, complete with two towering palm trees behind the firehouse.
Their dwelling area, especially the living room, has the look of a Victorian museum. An antique display case shows off vintage fire department memorabilia, and fire photos of other days adorn the walls.
They have a son, Don, 30, a lawyer and graduate of Georgetown University who, when he's on the prem¬ises, serves as an unofficial fire historian. He salvaged a number of photos from the department's storeroom, framed them and hung them about the residence.
"The place was a mess when we moved in," said Dorothy Casper. I've kept all the receipts, and I'm going to submit them to The City for reimbursement when we move out. I don't know how far I'll get, but I'll try. Visitors are always coming through. It really is a museum."
Casper purposely stays in the public eye. "You can't have 1,432 firefighters representing themselves. I am the reflection of all our accomplishments." He rarely eats lunch or dinner at home. He attends an endless string of banquets, dinners, receptions and organizations, at which he tirelessly promotes department programs, and ways to implement them.
He is a member of the San Francisco Rowing Club, where he can be found on weekend mornings oaring his way along the waterfront. "I used to row to Jack London Square and back, but since I became chief it puts me out of touch. I now carry my beeper in the boat, and row parallel to the piers. If the beeper sounds, I pull into the nearest pier, find a telephone and call in."
Despite his heavy social calendar, Casper sets one evening aside each week for dining out with his wife. Mostly, they go to Italian restaurants in North Beach, where Dorothy Casper was born and reared.
It is in the North Beach places that one hears murmurs that Casper would be a good mayor for The City. Those not-so-quiet whisperings have spread to other parts of town. Such talk is embarrassing to Cas¬per, who points out that he "serves at the pleasure of Mayor Moscone," and that undoubtedly Moscone will seek reelection. Casper's official statement on the subject: 1 am a career public safety employee with no political ambitions."
On the other hand, he says he doesn't intend to stay on as chief for more than another six years. His reason: I'll be 58 then, with 37 years in the department, and be able to retire at 75 percent of salary."
Seated behind his desk, Casper is the picture of the successful corporate executive. But he has continued his membership in the Firefighter's Union as one more way to circumvent official channels and head off trouble before it begins. He's at the helm, but he thinks of himself as a member of the crew.
"I'm up here all by myself. On one side the union is leaning on me, and on the other sides, the fire commission, the board of supervisors and the mayor. I've never reached the cracking point because when one side really starts to wear on me, I get pressure from another direction and it balances out."
Casper is a man of calculated compromise. He rarely gives an outright "no" to anything. "Maybe," "Let's talk about it" and "We can work it out together" are a big part of his vocabulary. This is perhaps why he has been able to instigate and implement 31 programs since his appointment two years ago. Among them, smoke detector legislation, Spanish and Chinese-language fire alarm box decals, multilingual safety brochures, Spanish-language fire prevention movie dialogues, high school fire science career counseling, the organization of a task force to work with the gay community, a residential safety survey program (which inspected 12,000 homes in 1977-78), an extensive school fire safety program and an arson task force, whose presence in their marked cars in arson-prone areas, he; feels, has created a public awareness and cut down the arson rate. He persuaded Foster & Kleiser to donate use of 25 billboards in town for a "Stop Arson" campaign.
Unlike other chiefs, Casper responds to two-alarmers.
"I am not an armchair general. The real challenge; for me is at a fire making command decisions. It is difficult to remain aloof and cool when you see a fire; extending, and you know your men have to go one block for a hoseline hookup. You just have to stand there and grit your teeth and hope that they'll be able to get water on the fire before it gets out of hand."
It is obvious that this concerned detachment is sensed by his men at a fire. He is a battlefield general, to whom his smoke-smeared "soldiers" pay respect in the form of the quick salutes they give when reporting to him. He is "CD-I," the man in the white helmet and turnout coat. There is little doubt that he's in charge, yet there is a self-doubt gnawing at him, one that will follow him the rest of his days. He feels responsible for the death of one firefighter.
"When I was a lieutenant, a man tugged on my sleeve at a fire saying there was a child trapped on the second floor of the burning building. I ordered a fireman to follow me. We put on breathing apparatus, and went in. Almost immediately, I knew I had made a mistake. I hadn't brought hoselines with us, and suddenly the fire was all around us.
"We got to the child, a 4-year-old boy, and were soon joined by two other firefighters, who had also not brought hoselines. The five of us were trapped on the second floor rear of this building. The only way out was to jump, which was a three-story fall because the ground sloped away from the building in the back. We jumped. The oxygen tank of the fireman I came in with struck the back of his neck when we hit the ground, and he was killed. I suffered shoulder and neck injuries, and the other two firemen were burned. The child wasn't even scorched or injured in the fall. I still have dreams about it.
Firefighters sit around a lot. They complain, and some become narrow-minded or above it all, because of the way they live when they work. The action comes in multiples of seconds, and there's no way to back off. Casper sometimes fears his firefighters "will drown in their own machoism, but then they need it to do the work they do." Inactivity leads to frustration, and Casper hopes that will be eased as the result of a physical exercise program he's developing with the YMCA
But what is there bad you can say about guys who come on with the pureness of people who are ready to risk their lives for somebody else?"
By: Albert Morch, San Francisco Examiner, August 6, 1978