Chief Engineer
December 6, 1851 - October 1, 1853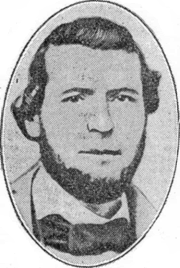 George H. Hossefross came to San Francisco in 1850 from Baltimore, where he also had been a fireman. He joined Monumental Engine Co. No. 6 and quickly became the company foreman.
Being an excellent mechanic, he was for many years Superintendent of Streets and was the first man in the State to apply hydraulic force successfully to the raising of large and heavy buildings. He resigned 1850, when he was called East on business.
He had been very popular and, when leaving, the firemen presented him with a gold watch and chain valued at $800. On the day of departure the department turned out en masse in full uniforms and escorted him to his steamer, the Golden Gate. The procession swarmed about the steamer. Near the wharf there was a memorial cask of the Sansome Hook and Ladder Company, which, it was claimed, had not run dry in three days. If that were true there must have some subterranean arrangements with the regions of Bacchus. It was a jolly scene.
The riggings and sails of the surrounding ships were alive with people. The captain of the steamer was called and made to imbibe at the memorial cask. He made a speech, too, as did many others.
A year later Hossefoss returned and founded the Exempt Fire Company. Internal link to He was its first president. Upon his death in 1864, Chief Hossefoss was buried in Calvary Cemetery. He was only 37 years old.
By: Frederick J. Bowlen, Battalion Chief, S.F.F.D. (1939)