Chief Engineer
1893 - 1906


Came to California in 1874 from Utica, New York where he was a member of Empire and Eagle Hose Companies
Appointed to the Department, 1877, age 25, occupation, Blacksmith

Assignments as a fireman: Engine Co. No. 3, 1877, Engine Co. No. 2, 1879, Engine Co. No. 12, 1880

Appointed Hydrantman, 1880
Appointed District Engineer, December 29, 1886
Appointed Assistant Engineer 2, 1887
Appointed Assistant Engineer, 1888
Appointed Assistant Chief Engineer, February 24, 1890
Appointed Chief Engineer, March 30, 1893
April 18, 1906, Chief Dennis T. Sullivan was the 47th member of the department to die in the line of duty.
Highlights of his tenure as Chief Engineer:
After Chief Scannell's death, Dennis T. Sullivan assumed command of the Department, and it soon became evident that he was fully equal to the task. A fireman of the highest ability, and a firm disciplinarian, his leadership brought the Department to a very high standard of efficiency.
During his term of office several more companies were organized and two Drill Towers were erected. The first Drill Tower was built in July 1898 at 3050 - 17th Street, and a second one was also constructed at Francisco and Stockton Streets. The latter was destroyed by fire in 1906, while the first one burned on November 1, 1919, with the loss of one fireman's life. This tower was then replaced by one of brick and steel, seven stories high, located in a gore of land bounded by Bryant, Eleventh, and Division Streets.
In 1898, Chief Sullivan recommended that the use of "Call" or extra men be abolished and the Department be organized into a fully paid department. At the time, there were 344 "Call" men who worked at their regular occupations throughout the City and only responded when needed. During the day, they were summoned by steam whistles, while at night, fire alarm tappers installed in their homes notified them of an alarm. Chief Sullivan's recommendations were adopted when a new City Charter, passed on January 8, 1900, reorganized the Department upon a fully paid basis.
The Department had grown in size to thirty-six engine companies, eight truck companies, seven chemical companies, one water tower and two monitor batteries.
Civil Service replaced the former methods of determining the fitness of departmental candidates. The first examination under the new charter was held on February 1903, in the gymnasium of the Olympic Club.
Pension provisions were also liberalized, providing half pay for disability and a service pension after twenty-five years of duty.
A modern fire alarm system had been installed. Water mains with over four thousand hydrants connected had displaced the old time fire cisterns. These cisterns were, despite Chief Sullivan's recommendations to the contrary and in the face of his repeated warnings, allowed to deteriorate. All other equipment and appurtenances of the Department, on the whole, where thoroughly modern and in good condition.
Most of the big downtown fires had combined into one, the oncoming flames having at one time formed a three mile front. The Department never stopped, its men dropping from exhaustion and sleeping as they lay in the streets - only to get up in a few minutes and go after the fire again. Word that their beloved Chief, Dennis T. Sullivan, was dying from injuries spurred the men on to make a valiant battle for him, as he would have wanted done had he been able to direct them. Chief Sullivan was injured by falling walls while in his quarters on Bush Street and died four days later in Letterman Hospital.
Auxiliary Water Supply System considered being one of the most important protective features of the Department. It permits the rapid concentration of powerful streams without the use of pumpers in the congested value and adjoining mercantile, industrial and closely built residential districts.
Construction of the system had been repeatedly urged by Chief Sullivan since the late 1800's, but it took the Great Earthquake and Fire of 1906 to give the necessary impetus for initiation.
Two fireboats, the Dennis T. Sullivan, and David Scannell, while independent fire fighting units, were built as, and formed part of, the city's "Auxiliary Water Supply System." Completed in 1909 at the Risdon Iron Works at a combined cost of $279,618, they were each capable of delivering 10,000 gallons of water per minute. Permanent manifold connections located along the waterfront permitted either or both of the boats to pump into and supplement the high pressure system.
CITY MOURNS DEATH OF FIRE CHIEF
SAN FRANCISCO, April 22. — Chief D. J. Sullivan of San Francisco's fire department passed away at 1:10 o'clock this morning from the effects of the injuries received on the morning of the earthquake. Chief Sullivan and his wife were sleeping in the firehouse adjoining the California hotel on Bush Street. The earthquake shook down the chimney of the hotel and sent it crashing through the firehouse. Chief Sullivan and his wife were carried with the debris two stories to the ground floor 'where they were extricated after great difficulty. The chief and' Mrs. Sullivan were at once taken to the Southern Pacific hospital at Fourteenth and Mission streets, but when the flames reached the Mission district they were again moved, this time to the general hospital at the Presidio. It was found that Chief Sullivan was suffering from a fractured skull, four broken, ribs and other Injuries. Eddie Graney, was with Chief Sullivan from the time he was removed from the firehouse until his death. Mr. Graney today stated, "that Chief Sullivan never knew, there was a fire." After recovering consciousness the chief took great, Interest in the affairs of the city, "being always apprehensive that a fire would break out. He knew from the first that he would die from his Injuries," but never forgot the Interests of his department. His mind seemed to dwell on the need by the city, of a salt, water fire fighting plant, and he repeatedly spoke to his friends of the Increasing, necessity for such an adjunct to the fire department of the city. Mrs. Sullivan, who suffered serious Injuries has progressed satisfactory totally and It Is believed that she will recover.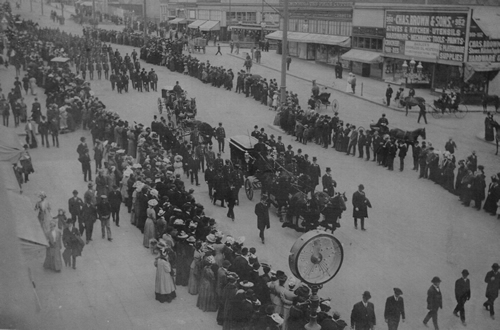 Funeral procession of Chief Engineer Dennis T. Sullivan, April 14, 1907,
on Van Ness Avenue crossing Olive Street, proceeding south towards Market Street.
Main News Section
Los Angeles Herald, April 22, 1906
From the Library of Congress
RELATED ARTICLES
FIREMEN PROMOTED.
1893 April 5
Assistant Chief Dennis Sullivan Takes David Scannell's place. A special meeting of the Fire Commissioners was held last night, at which Assistant Chief Engineer D. T. Sullivan was elected Chief, vice David Scannell, deceased.
The board, on the recommendation of Sullivan, appointed John Dougherty, who had been district engineer, assistant chief engineer; John Wills, who had been chief engineer, district engineer; T. M. Fernandez, relief engineer, and Isador Guruandez, engineer of Chemical Engine 1. On motion of Commissioner Ames a vote of thanks was tendered to all who took part in the Scannell funeral.
Source: San Francisco Call, Volume 73, Number 126, 5 April 1893 — FIREMEN PROMOTED. [ARTICLE]
THE CHIEF'S TRUMPET.
Mrs. Sam Rainey's Gift to Engineer Sullivan.
1893 August 17
A pleasing ceremony, in which Chief Engineer Sullivan of the Fire Department was the central figure, took place at a birthday dinner given by Mrs. Sam Rainey to her friends in the Grand Hotel on Tuesday night. While the Chief was on his feet making a speech appropriate to the occasion, President Schmitt of the Fire Commissioners interrupted him and asked to be allowed to make a statement. He immediately delivered an eloquent address eulogizing the Chiefs services in the department, and concluded by presenting him on behalf of Mrs. Rainey with a trumpet which had a history. It was made in 1853 by Vanderslice for a lady, who presented it to the San Francisco Fire Department. It remained with the department until November 13, 1866. when it was presented Knickerbocker Engine Company 5 to W. B. Fairman.
In 1874 it was presented to James Riley. the then Assistant Chief Engineer, by his friends, who had come into possession of it, and at Riley's death Mrs. Rainey purchased it for presentation to Chief Sullivan.
Mrs. Rainey had the trumpet engrave, with the following Inscription: "Presented to D. T. Sullivan, Chief of the San Francisco Fire Department, by Mrs. Sam Rainey: August 15, 1893." She accompanied the gift with an engrossed card, in the form of it testimonial, to the Chief's worth. The trumpet is of solid silver embossed and elegantly chased. It is ornamented with silver dolphins and coral pieces on frosted silver.
Chief Sullivan was, for a few moments, staggered by the unexpected. present, but when he recovered his voice and presence of mind he told Mrs. Rainey how thoroughly he appreciated her kind thoughtfulness
Source: San Francisco Call, Volume 74, Number 78, 17 August 1893 — THE CHIEF'S TRUMPET. [ARTICLE]
1893 Report of the Chief Engineer
1893 Chief Sullivan, 1st Department Review
1895 Lack of Water Report
Yearly Reccomendations of the Chief