Chief of Department
1992 - 1996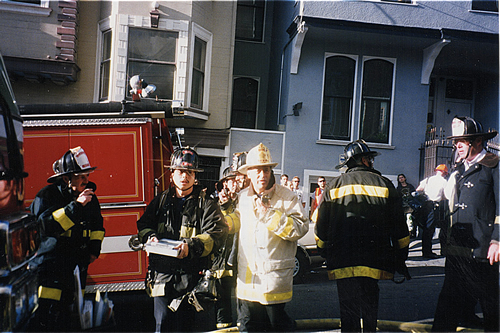 Fourth Alarm - Box 3522 – Webster & Hayes Streets
July 14, 1995

Appointed to the Department, November 1, 1962, age 27

Assignments as a fireman: Engine Co. No. 46, 1965, Truck Co. No. 1, 1970

Appointed Lieutenant, November 27, 1970
Appointed Captain, 1973
Appointed Battalion Chief, 1977
Appointed Assistant Chief, May, 1982
Appointed Fire Marshal, August 1982
Appointed Chief of Department, 1992
Retired: 1996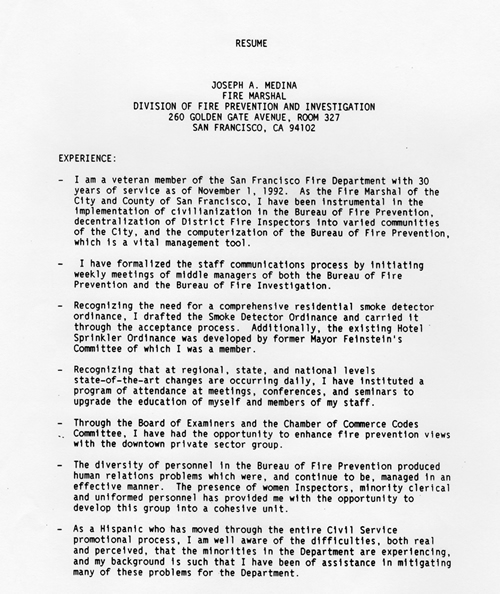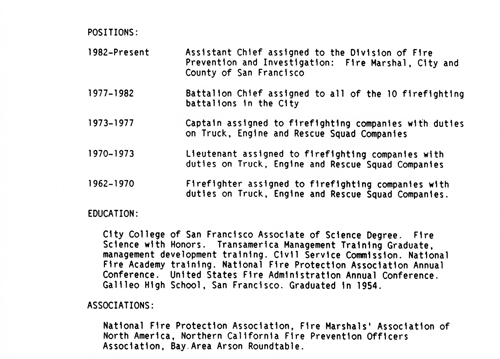 LAST ALARM
JOSEPH MEDINA
1ST MINORITY S.F. FIRE CHIEF
Joseph Medina, who was once described as "a pistol of a firefighter" and rose to become San Francisco's first minority fire chief, is dead at 75.
He died Oct. 26 at a hospital near his home in El Dorado Hills (El Dorado Coun­ty) from complications after a stroke, said his son, Michael Francis.
"He loved being a firefighter," Francis said. "He always said he wanted to be back in the field. He loved the camaraderie, and it was a good brotherhood for him."
Mr. Medina was fire chief from 1992 to 1996, a period when the department was under a federal court order to diversify its workforce. The city's current chief said he displayed "great leadership skills."
"He led the department at a challenging time, and he led it with great pride and great expertise," said Fire Chief Joanne Hayes-White, who in 2004 became the city's first female fire chief. "He worked his way up the ladder, but he never forgot where he came from."
Mr. Medina was born in Solano County, raised in San Francisco, and served as a corporal in the Marine Corps during the Korean War. After his honorable discharge, he delivered salami and milk in San Francisco while he earned a fire science certificate at City College of San Francisco. He became a city firefighter in November 1962.
He served on the fire lines, drove engines and eventually became fire marshal in 1982. In that job, he revised the city's fire code to more closely reflect its ethnic populations, such as recognizing the intricacies of regulating Polyne­sian fire-walking.
The Fire Department was ordered by a federal judge in 1988 to diversify its ranks, and when then-Mayor Frank Jordan appointed Mr. Medina fire chief in 1992 the tension over that order was still palpable. Mr. Medina, whose par­ents were from Spain, was a logical choice because of his emphasis on ethnic sensitivity and his deep knowledge of the department, many said.
"He's a pistol of a firefighter," then-Fire Commission President Jack Ertola said at the time. "He's a firefighter's firefighter."
By the time Mr. Medina retired in 1996, the department had gone from being 15 percent minority with no female firefighters in 1988 to an organization that was 33 percent minority and 6 percent female.
Mr. Medina is survived by his wife, Carol Medina of El Dorado Hills; three sons, Francis of El Dorado Hills, Joseph Medina of San Francisco and Michael Me­dina of Winters; a sister, Nancy Pfeifer of Eureka; and seven grandchildren.
Services will be held Tuesday at 11 a.m. at St. Monica's Catholic Church, 470 24th Ave., San Francisco. A rosary will be recited at the church Monday at 7 p.m.
Source: "Mainline" Local 798, IAFF, December 2010
JOSEPH MEDINA
OBITUARY
Joseph A. Medina Retired San Francisco Fire Chief, Joseph A. Medina -A respected and beloved community leader died October 26, 2010. He was 75. Born in Solano County, Mr. Medina grew up in San Francisco. His parents were Joe and Manuela Medina. Mr. Medina went to local elementary schools and graduated from Galileo High School in 1954. He served in U.S. Marine Corps, during the Korean War. Afterward, he studied Fire Science at San Francisco City College. In 1962, he joined the San Francisco Fire Department. He worked up the ranks of the department and was promoted to Lieutenant in 1970, Captain in 1973, to Battalion Chief in 1977 and to Assistant Chief in May 1982. Appointed to the position of Fire Marshall, August 1982. In 1992, he was named Chief of the Department and retired from service in 1996. Joe was a very special person and leader. His appointment to Chief of Department was, a breath of fresh air to the ranks. Joe worked at very busy stations and studied constantly as he promoted through the ranks, He always appreciated the effort and dedication of the firefighters on the fire ground. He treasured the bond of friendship with those who worked under his command; those who got the job done! He took a special interest in the lives and needs of all personnel and their families. Joe Medina ranks at the top of the list of Chiefs most respected and revered by the members of the San Francisco Fire Department and the people that he touched in both the public and private sectors. He will always be remembered fondly as a fair leader, a gentleman and friend. His legacy remains alive in those he touched with his kindness and concern. Mr. Medina is survived by his wife of 26 years, Carol Medina; his sons; seven grandchildren; his sister and brother-in-law as well as many close friends and family members. Friends may visit Monday, November 15, after 6pm and are invited to attend the Rosary Service 7pm, and the Funeral Mass Tuesday, November 16 at 11AM (ALL) St. Monica Church, 470 24th Ave, San Francisco.