Chief Engineer
November 3, 1851 - November 17, 1851
December 1, 1856 - December 3, 1860
October 6, 1866 - July 20, 1870
April 22, 1873 - December 1, 1873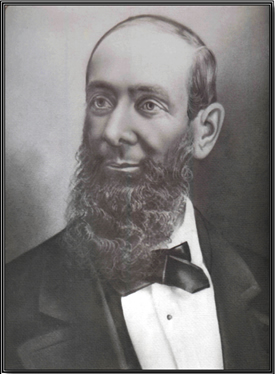 Came from Boston in 1850
An organizer of Howard Engine Company No. 3, June 15, 1850
Foreman, Howard Engine Company No. 3, 1851
Elected Chief Engineer, November 3, 1851
Resigned due to ill-health, November 17, 1851
Foreman, Howard Engine Company No. 3, February 17, 1852
Elected Chief Engineer, December 3, 1856 - December 3, 1860
Appointed Chief Engineer, October 6, 1866
Replaced, July 20, 1870
Appointed Chief Engineer, April 22, 1873 - December 1, 1873
Died – October 1889
Franklin E. R. Whitney was the City's second Chief Engineer, being elected on November 3, 1851. He had arrived here via Cape Horn a year previously from Boston, where he had been a foreman of that city's Fire Department and once in San Francisco he joined, and was appointed the foreman of Howard Engine Co. No. 3.
Owing to ill health Whitney resigned two weeks after election and Thomas K. Battelle became acting chief until December of 1851, when George H. Hossefross went into office. Whitney, however, was to be elected again in 1856 and served for the following four years.
With the re-organizing of the department from volunteer to paid, on October 3, 1866, the Board of Supervisors passed a resolution making Franklin Whitney the first Chief of the paid department.
By: Frederick J. Bowlen, Battalion Chief, S.F.F.D. (1939)