Chester "Chet" O. Born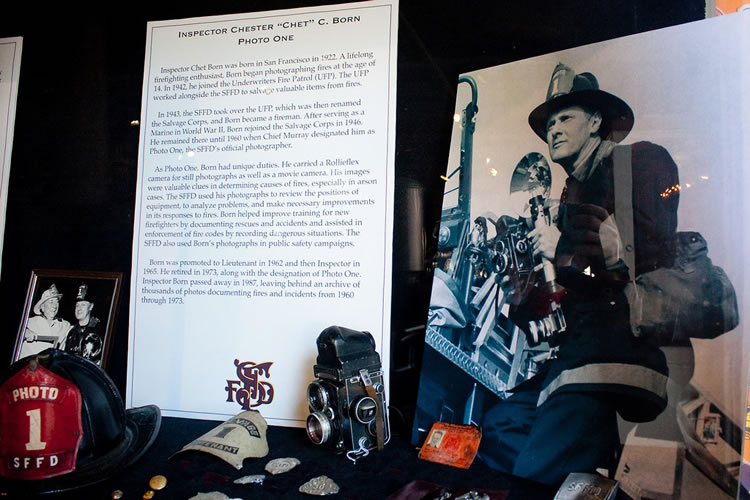 Inspector, San Francisco Fire Department
Department Photographer
"Photo One"
Photo Courtesy of Ken Lu
Appointed to the Underwriters Fire Patrol, March 7, 1942
Blanketed into the SFFD when the UFP was disbanded, July 1, 1943
Assigned to Salvage Co. No. 2, 1946,
Assigned to Salvage Co. No. 4, 1954
Assigned as the first member of the newly created Photo Department, 1959
Appointed Limited Tenure Lieutenant, Salvage Corps, 1963
Appointed Inspector, Fire Prevention, March 19, 1965
Chief of Department Bill Murray was always looking for ways to improve the Department. One of the first innovative changes that Chief Murray made to the Department was to form a class of new recruits at the fire college. This changed the practice of one fireman being woven into the Department at a company level, and began the concept of team firefighting on the recruits first day. To accomplish this new team training goal, the Chief assigned Assistant Chief Clarence Rosenstock to rewrite and update the training manuals. At the same time, Chief Murray realized that, in addition to the written material, showing recruit classes' photographs of actual fire ground operations would help them learn fire science accepted practices.
The first Photo Unit in the Department was organized by Chief Murray in 1959. Chester O. Born was the first department member assigned to this unit. The Chief selected Chet as he was an amateur photographer who had been taking fire ground photos on his own for many years.
In order to be identified over the department radio, Chet took the designation of "Photo One." Little did he know at the time that he would later become well known in fire departments across the nation, as "Photo One."
Chet's hours were a regular work week, that is to say Monday through Friday from 8:00 am to 5:00 pm. He was assigned a personal buggy so that he could respond to calls 24 hours a day, 7 days a week. He had a stationary department radio in his home, and he responded to all greater alarm fires and other emergencies no matter what the hour.
Chet's photographs were taken from every possible angle. Some showed a 360 degree street view from the center of the fire. Others were shot from an adjoining building from the same level as the fire or from the roof to look down on the fire. Shooting from above, he could show how the truck companies made their ventilation holes in the roof. All these pictures were used for training purposes, as well as public relations.
Chet carried a camera for black and white photos, the most commonly used film in those days, and a camera for color slide prints. In the 1960's, flash bulbs were still in use, so he had to carry a healthy supply in his camera bag. On occasion, he also carried a relatively small hand held movie camera. Taking the shots did not end Chet's work day. A dark room was added to the Drill Tower, and immediately after a fire Chet began processing his work. If the newspapers were not present at the incident, Chet ran his photos over to them. When the new headquarters at 260 Golden Gate Avenue was built, an office with a dark room was installed on the fourth floor for Chet. A red light over the office door meant he was busy developing film. I was lucky enough to be with Chet in his darkroom many times while he was developing his photographs. The prints had to go from pan to pan, all timed, and then hung on drying lines with wooden clothes pins.
It was a Department plus to have Chet's office at headquarters. In addition to his fire ground requirements, he was the photographer for official receptions and visitations in the Chief's office and at City Hall.
In addition to his photo work, Chet made numerous lunch and evening slide show presentations for civic organizations. He was the first, unofficial, public relations officer for the Department. I met Chet for the first time in 1960 when he was at my father's lodge one evening giving a presentation of Department action. Ten years later, I joined the Department and found myself working at a fire next to Chet. Was it this 1960 slide show that started my thoughts about a firefighting career? How many other young men did he influence?
His response was not only to greater alarms, but he also had a knack of being in the right place at the right time for interesting interventions. He would capture cliff rescues between the Cliff House and Lands End on film, showing the rescue company members repelling down to a victim and bringing them back either attached to a firefighter or if severely injured in a Stokes basket. Automobile and cable car accidents, cats that would not come down from trees, water rescues from the Bay, surf rescues at the Ocean Beach, you name it, Chet was there. Chet was "24/7" long before anyone ever coined that phrase.
Besides making a photographic history for the Department, Chet supplied his photos to the City's four major newspapers. And, his magical work was also being published in fire journals, first in the United States and then around the world. He was becoming famous, and so was the Department. Other departments saw the value of having a photo unit, and began placing them into service. As mentioned in the Chief Murray story, at this same time, the firefighters of San Francisco, mostly World War II veterans, were making unbelievable fire ground accomplishments that established the SFFD as one of the best departments in the nation, if not the world. Chet would say that it was because of the actions of these men that it was easy for him to get unbelievable working fire photos, and that he was just the photographer, but he was recognized, worldwide, as one of the best fire service photographers.
Chet hardly, if ever, worked a forty hour week. In 1959, the Department was on a 56 hour work week, and so was Chet. For any hours over that amount, he was given time-coming in lieu of pay. He rarely took advantage of his earned time-coming. At his retirement he had, in fact, acquired more time coming hours than anyone in Department history, a record that still stands today. In his appointments listed above, it is noted that he was a limited tenure Lieutenant in 1963, and appointed an Inspector in 1965. He carried the rank of Inspector until his retirement. These promotions were made to give Chet as a pay raise. Each day that he was a Lieutenant or an Inspector, he was "detailed" to his Photo One job slot.
Wherever there was department action, Chet was often the first to arrive on the scene. Before any firefighting companies arrived, Chet was on the radio calling, "Photo One, on the scene, working fire." Because Chet always seemed to be first at an incident, by the mid 1960's there was a Department superstition that said if Chet showed up at your firehouse, a working alarm would soon sound. In my first year in the Department, 1970, I was assigned to Truck Company 10. It was about 10 in the morning when Chet stopped in for coffee. Everyone said hello to him, and an "old timer" whispered to me, "Get ready, we'll be going to a fire soon." Sure enough the "superstition" that Chet had become known for happened again. Fifteen minutes later an alarm came in. Chet had dropped his coffee, hopped into his buggy and was the first arriving unit calling to radio, "Photo One, on the scene, working fire." A minute later, 26 Engine from our house was the first arriving firefighting company, and immediately called for a 2nd alarm. The fire was in a three story, type 1, apartment house on the corner of Washington and Baker Streets. Fire was blowing out of a second floor window and extending up and into a third floor window.
On our next shift, Chet was back to our house to show us the photos he captured at the 2nd alarm. When was saw him walk in we all thought, oh no, here we go again.
By: Bill Koenig
San Francisco Fire Department, 1970-2000
Director Emeritus, SFFD Museum