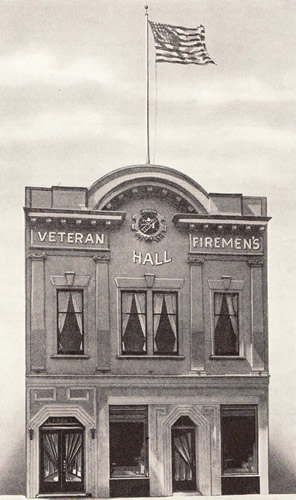 Organized November 30, 1898
The first regular meeting was held January 25, 1899 in the hall of Exempt Fire Company on Brenham Place. The Charter Roll was closed May 2, 1899, with thirty members, the Association was incorporated June 10, 1899; the Association today, August 1, 1931, has a membership of 675.
The purpose of this Association is to promote and cultivate social intercourse, keep alive old friendships among comrades who have fought fires together and to create and maintain a fund out of which to pay one hundred and fifty dollars ($150.00) toward the funeral expenses of deceased comrades. The benevolent side of this purpose is most worthy and its social side is no less meritorious. A large number of the Association's members are today in active service in the City Fire Department. To belong t the Association it is required that the members shall have served at least five consecutive years in the paid Fire Department of this city, or at any time between 1866 and 1886. The membership also includes many who were present and worked to preserve property and lives in the big fires that are recorded in San Francisco's history. When the history of our veteran firemen is written in detail every man will be proud to think he belongs to the organization.
In the annals of San Francisco, no chapters are more interesting than those relating to the firemen. Their brave work in the various fires that have threatened the city's destruction can never be forgotten. The firemen today are doing in the course of their daily duty work that ranks among the heroic deeds of the century.
The Uniform Rank of the Veteran Firemen's Association was organized May 6, 1920, by comrades P. Diez, C Connell, W. Peake, S. Baker, J. Cain, H. Robinet, F. Smith and J. Dever.
The object sought in forming the rank was to perpetuate the memories of the volunteer firemen two generations ago. The uniform worn by the members is an exact replica of that in vogue in the days of the volunteer.
The apparatus, pumps and hose reels are the very ones they used in running to and extinguishing fires.
The Uniform Rank has participated in many important events since its organization and has been invited to others being planned for the future.
Organized January 10, 1888
Their headquarters and reading room was in the Pioneer Building, 24 Fourth Street, San Francisco. Sons of firemen 21 years of age as well as veterans were eligible for membership.