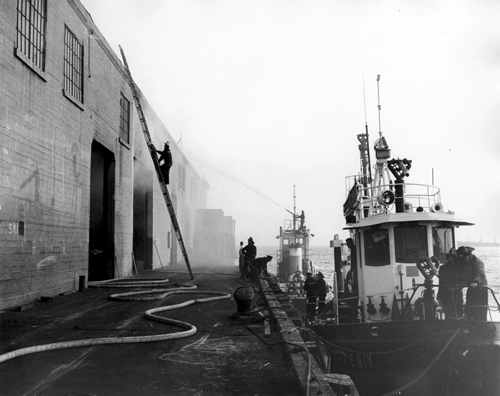 The Frank White is moored behind the Phoenix, foreground, at this working pier fire.
In 1947, the Department's two fireboats, "The Sullivan" and "The Scannell" were joined by a third fireboat, "The Frank G. White." This 72 foot boat added an additional 6000 gallons per minute of pumping power to the total of the fleet.
The Frank White was a tugboat owned by the State of California, the operator the Port of San Francisco. Because of its firefighting capabilities, the Department had an agreement with the Port to use The Frank White during fires. When a greater alarm was called at a pier fire, the White would stop its tug operations and proceed to the fire.
In May of 1954, the Sullivan and Scannell were retired and replaced by only one fireboat, the Phoenix. When the Phoenix went its annual dry docking for maintenance and repainting, the Frank White was removed from tug work and placed into a manned active status at Pier 22 ½.
In March of 1978, The Frank G. White was decommissioned in order to save the Port of San Francisco money.