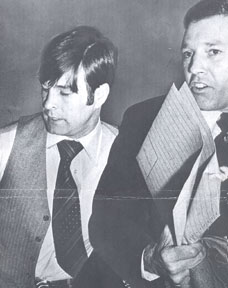 Dan White (left)
Former police officer and firefighter, Dan White was elected to the San Francisco Board of Supervisors in 1977. After a frustrating year on the board, and in the face of mounting financial pressures, White unexpectedly announced his resignation. A few days later, he changed his mind and asked Mayor George Moscone to reappoint him to his seat. Mayor Moscone decided to appoint someone else and White found out about it from a local reporter.
On Monday, November 27, l978, White sneaked into City Hall through a basement window, went to see Mayor Moscone and shot him to death in his office. White then, as he reloaded his revolver, walked across the building, found Supervisor Harvey Milk (a vocal opponent of White's reappointment) and killed him.
Using a "diminished capacity" defense, White was convicted of two counts of voluntary manslaughter and sentenced to seven years in state prison. A year after the completion of his prison term, Dan White committed suicide.