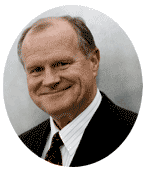 photo by Luke Thomas
Michael Hennessey
San Francisco Sheriff 1980-Present
Michael Hennessey has served as Sheriff of San Francisco for 27 years, and was elected to his seventh term in November 2003. As Sheriff, he has won widespread recognition for the outstanding success of his innovative in-custody treatment programs. He is one of the nation's pioneers in establishing direct supervision jails that have proved to be safer and more cost effective than traditional linear jails. He has also been nationally recognized for his recruitment program for women and minorities, including gay men and lesbians. His staff is among the most diverse in the nation and reflects the diversity of San Francisco's population. At the height of the AIDS crisis, he was named Law Enforcement News' Man of the Year for leadership in fact-based policy and training regarding AIDS in jails and prisons.
Sheriff Hennessey's efforts to rehabilitate prisoners include a wide range of prisoner education and substance abuse recovery programs, such as SISTER, a drug treatment program for women, and the Garden Project, a post-release job-training program. Recidivism studies show that both of these programs significantly lower participants' rate of re-offense and return to custody.
Sheriff Hennessey was instrumental in implementing another innovative in-custody treatment program, Resolve To Stop the Violence (RSVP), which was started in 1997 and is a result of collaboration between organizations that advocate for victim's rights and provide services for survivors and the San Francisco Sheriff's Department. RSVP offers treatment for male offenders with violent histories, services to victims of violence and restitution to the community for the harm caused by violence. RSVP was honored in 2004 with the prestigious Innovations in Government Award from the Kennedy School of Government at Harvard University.
In September, 2003, Sheriff Hennessey opened the Five Keys Charter High School, which provides prisoners with the opportunity to earn high school diplomas while in custody. Prisoners who are released before they complete the curriculum may continue their studies at the Post Release Education Program, or PREP. The name Five Keys refers to the five most important factors in successful re-entry to the community after incarceration: education, employment, recovery, family and community. It is the nation's first charter high school to be operated inside a county jail.
A native of Iowa, Sheriff Hennessey graduated from St. John's University, Minnesota, with a bachelor's degree in history, and received his J.D. from University of San Francisco in 1973. He is the longest serving Sheriff in California and the only one who is a lawyer. In 1975, he founded and directed the San Francisco Jail Project, a legal assistance program for indigent prisoners with civil legal problems, and provided training for law students and new lawyers while offering technical assistance to the Sheriff's Department.