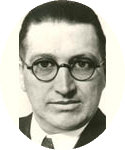 William J. Fitzgerald
San Francisco Sheriff 1928-1935
For 16 years, Fitzgerald worked as a construction engineer while earning his law degree from Hastings. Fitzgerald made some dramatic changes in the Department, and was a leading jail reformer in his time. He was instrumental in the construction of a new "state of the art" jail facility at City owned property in San Mateo County. This jail, which cost $850,000 to build, was dedicated on July 1, 1934. It replaced the old Ingleside Jail, which was built in 1872, and the women's jail, which was built in 1858 and had been partially destroyed by the 1906 earthquake. The jail incorporated the new humane ways of dealing with prisoners, including a working 50 acre farm.
Sheriff Fitzgerald was the first to modernize the jail commissary system, issuing vouchers instead of money. He reorganized all clerical duties within the Sheriff's Department, and moved the Sheriff's Offices into Room 333, City Hall, where they were located until City Hall was closed for renovation in 1995. The offices are now located in Room 456.