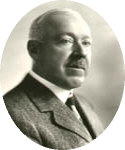 Thomas F. Finn
San Francisco Sheriff 1910-1911 & 1916-1927
Thomas Finn was born in San Francisco on November 23, 1873. He received his education in public and parochial schools, and after attaining prominence in union labor affairs entered public service. He spent twelve years in the State Assembly and was elected State Senator.
Finn was elected Sheriff on the Union Labor ticket. Prior to his election, he served as Undersheriff for Sheriff Thomas O'Neil. During his later terms as Sheriff, the newspapers dubbed him "Boss" Finn, for his vast political influence in San Francisco. Sheriff Finn's boast was that he never lost a prisoner. Sheriff Finn did make reforms in the jail system, most noteworthy being the transformation of 35 acres of land into an inmate owned and operated vegetable garden.
During Sheriff Finn's term the Sheriff was paid $666 a month, the Undersheriff was paid $200 a month, and bailiffs and "jailers" were paid $100 a month. The Department had a total of 79 sworn and civilian employees. He died January 8, 1938.