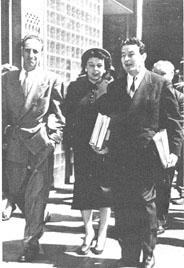 Harry Bridges (left) with Mrs. Bridges and Vincent Hallinan in 1950.
Harry Bridges was an Australian born radical labor organizer for the I.L.W.U. He played a key role in organizing San Francisco's infamous General Strike in l934. When the government couldn't deport Bridges by proving he was a Communist, they charged him with a unique conspiracy to defraud the U.S. government. The claim was that Bridges had defrauded the government out of a citizenship obtained by a perjured oath denying that he was a member of the Communist Party.
Bridges was convicted, but eventually won a reversal at the U.S. Supreme Court. Bridges was never deported, and in 1970 Mayor Joseph Alioto appointed him to San Francisco's Port Authority.