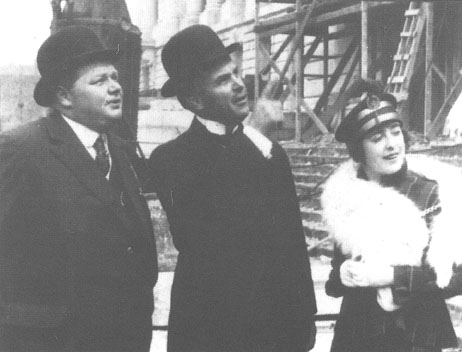 Roscoe "Fatty" Arbuckle and Mabel Norman, silent screen comedy stars,
flank Mayor Jimmy Rolph on the steps of City Hall, under construction in 1915.
One of motion pictures' early stars, Fatty Arbuckle ranked second only to Charlie Chaplin in popularity as a film comedian. He was accused of killing a young actress, Virginia Rappe, in September 1921, at the St. Francis Hotel during a wild orgy.
His first two trials ended in hung juries. His innocence was not declared until the third trial. By that time, his reputation was ruined and many exhibitors banned his earlier movies. He never acted in an American movie again, although he directed several under the pseudonym "Will B. Good."