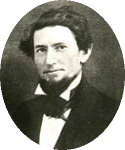 John C. Hays
San Francisco Sheriff 1850-1853
John Coffee Hays was born in Tennessee on January 28, 1817. In 1836, after the fall of the Alamo, he moved to Texas to fight for the Republic of Texas. He joined the company of Capt. E. "Deaf" Smith, and was appointed an officer and surveyor for the Texas Rangers. In 1839, he was appointed Captain of his own company of Rangers. In 1846, now Colonel Hays formed a regiment of Rangers for service in the Mexican War.
On January 5, 1850, he arrived in San Francisco. In February of 1850, he announced his candidacy for the office of Sheriff, running as an independent candidate. He defeated Democratic candidate J. J. Bryant, and assumed office on April 9, 1850. After leaving office, he was appointed United States Surveyor General, and helped found the City of Oakland. He died in 1883. He is responsible for building San Francisco's first county jail and for conducting its first legal execution.