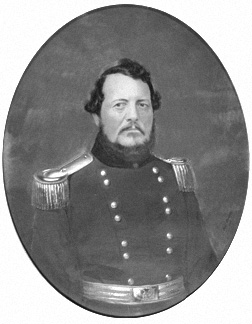 Charles Doane
San Francisco Sheriff 1857-1861
Charles Doane, a native of Vermont, passed his early years in mercantile pursuits. Before he was elected Sheriff, Charles Doane was a Grand Marshal for the Second Committee of Vigilance, and while in this post, challenged then-Sheriff Scannell by demanding that he release two prisoners that were in the Sheriff's custody. Doane won this confrontation, as he was backed up by 24 companies of Vigilantes and a cannon. Both prisoners (Cora and Casey) were hung.
Charles Doane died on October 8, 1862. At the time, he was a Major General in the State Guard. He had a large and imposing funeral with military and Masonic honors. The City Guard acted as the Guard of Honor, and Doane's staff attended in full uniform. Leading citizens of every profession attended his funeral.